This is why countless tourists visit the small town of Siena in Italy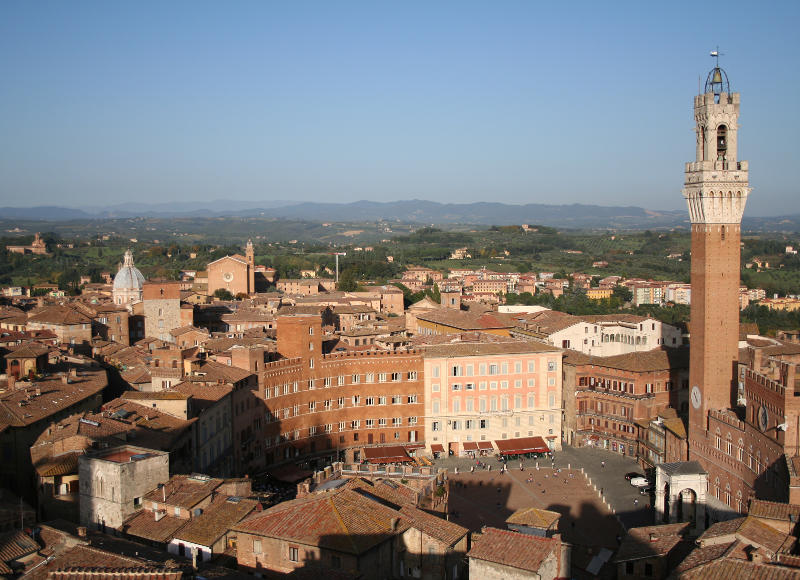 Each year more than a hundred thousand tourists flock to the picturesque historic city of Siena. For a good reason, because this little Italian gem is filled to the brim with culture. In this blog I'll let you discover the rich history of Siena and discuss what the most interesting tourist attractions of this incredible city are, which ensure this city often ends up on the top of people's Italian bucket list.
Siena's rich history
The history behind Siena, one of Italy's most fascinating tourist destinations: According to legend Siena was founded by Senio and Ascanio, the sons of Remus. The same Remus that was thought to have founded Rome with Romulus. In reality Siena was established as a Roman military outpost in 30AD. Siena soon flourished as a bustling trading post. This led to rivalries with the neighbouring city of Florence during the 13th and 15th centuries, which resulted in Siena being taken over by its neighbour. The city kept prospering and today the city relies on agriculture, finance and tourism.
The authentic medieval city center
This does make you wonder why Siena is such a popular tourist destination, but the answer to that is quite clear. Siena has a well preserved historic city center, which lets you experience how it is to visit and explore an authentic medieval city. As the city has been spared from major conflicts the medieval city center has remained intact throughout the centuries. Siena's stunning Gothic buildings which are a part of its medieval cityscape, were constructed between the 12th and 15th centuries and are still in pristine condition. The historic city center is listed as a UNESCO World Heritage Site for a good reason, as you can just feel the historical ambiance of this place as you walk down the streets.
The heart of Siena's medieval cityscape is the Piazza del Campo, a sprawling medieval square which is surrounded by authentic medieval period brick monuments. As this square is still the center of the city life you can find an abundance of restaurants, palaces and museums in all directions of the square. So whilst exploring the Piazza del Campo you can for example treat yourself to some gelato from one of the square's world class gelaterias or visit a nearby museum.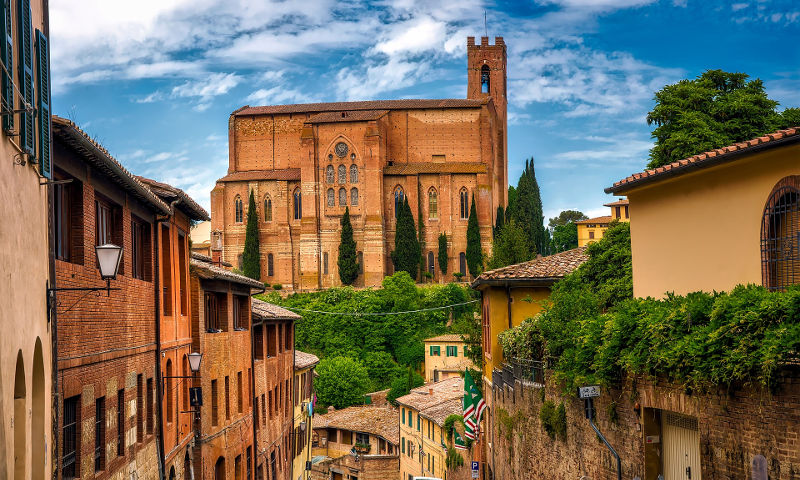 The beautiful cathedral and museums
After exploring the Piazza del Campo it's well worth exploring Siena's most recognized landmarks, the gothic Cathedral called the Siena Duomo, which overlooks the Piazza del Campo. The Duomo which was built between 1215 and 1263 is decorated with black and white striped marble and contains art work by the unrivalled artists Donatello and Michelangelo. For unparalleled views of Siena's historic city center make sure to climb the Duomo's bell tower.
If you're a bit of a self confessed history buff, it's also worth visiting several of Siena's museums. As an example, you may be interested in touring the Civic Museum, which is also known as the Museo Civico. The Museo Civico boasts a plethora of Sienese art works, such as 19th century frescoes which depict the life of Italy's first king Victor Emmanuel II. Another museum which attracts thousands of tourists is the Complesso Museale Santa Maria della Scala. Which is an underground archaeology museum, which is housed in the basement of a former hospital, which once housed Siena's orphans. Relics which are housed in the Complesso Museale Santa Maria della Scale include relics which are thought to have belonged to St Peter as well as part of the Holy Cross.
Siena can also be an interesting visit for people with an interest in Catholic symbolism, as one of the oldest hospitals in the world, the Complesso Museale Santa Maria della Scala, is located in Siena. The hospital was known for participating in charity for children and religious pilgrims. Today it serves as a museum where you can enjoy beautiful frescoes and altarpieces.
And more rich culture to discover
If you're tempted to visit Siena, it's worth planning your trip so that it coincides with The Palio Horse Race. The first modern Palio di Siena race took place back in 1633. In modern times the Palio di Siena, takes place twice a year and involves 10 horses being raced around the Piazza del Campo. The first horse to cross the finish lines wins, even if the said horse has lost its rider.
Now you have an impression of what Siena is all about I'll leave it to you to discover the rest. If you're looking to visit a historic city which boasts a plethora of historical sites and museums, it's well worth discovering the beauty of Siena for yourself.
---
---